Rates and Terms of Reservations (effective 09/01/2021)
Standard tributary Drift Boat or Bank Trips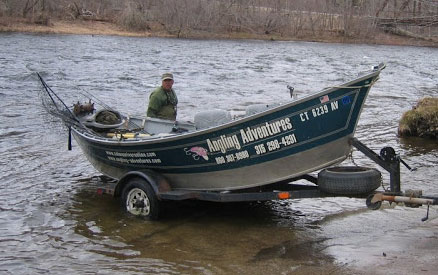 Full Day: 6 to 8 hrs fishing time
$300.00 per day for 1 person
$200.00 per day per person for parties of 2 or more
Currently when fishing the Douglaston Salmon Run property (9/1 thru 11/1) there will be a rod fee of $45 Mon-Thurs and $55 Fri-Sun per angler per day
All rates are subject to change
all price quotes are for cash payment only
Spring  Lake Ontario  Brown Trout Trips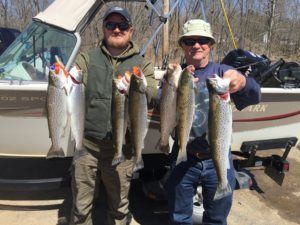 2 man  6 hour $400.00 / 8 hour $500.00 this pricing is for our smaller lake boat.
A deposit of 50% MUST be received within 7 business days from time of booking. Failure to do so may result in LOSS of BOOKING.
Balance due (in cash) on morning of trip.
All client cancellation requests must be made in writing no less than 30 days prior to date of trip. Failure to comply will result in LOSS of DEPOSIT.
All cancellations are subject to rebooking/handling fees.
If need be, we reserve the right to cancel or rebook any trip. Weather cancellations are solely up to the discretion of Angling Adventures Guide Service.
We accept credit cards and personal checks for deposit payments only. Please note all credit card transactions will incur a 4% handling fee.
Final payments are to be in cash or money order.
All prices are in US funds.
All prices are subject to change.